---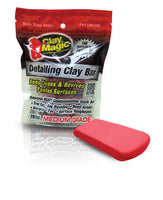 Clay Magic® deep cleans and removes surface contaminants like tree sap mist, bug residue, paint overspray, road tar, rail dust, and other stubborn dirt. Makes your finish super-clean and smooth as glass. Safe for all surfaces. Clear coat safe. Medium Grade to medium to heavy surface contaminants.

DIRECTIONS:
1. Throughly wash and rinse the entire vehicle.
2. Spray #49-Body Shine, Clay Lube, or #050 Lubri-Shine (non silicone) on a 3' x 3' surface area.
3. Form Clay Magic® into an oval shape. Gently rub the clay bar over the wet area using a back-and-forth motion until you feel the contamination is removed.
4. Wipe the surface dry with a clean microfiber cloth.