---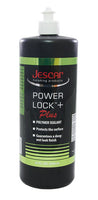 Power Lock is the polymer sealant that many top detailers turn to when they need protection from the weather UV rays. Use it on either new or reconditioned paint and by hand or with a machine.
DIRECTIONS:
1. Use soft or microfiber applicator to apply a thin layer of sealant,
2. Allow to dry to a haze and remove residue after 1/2 hour using a clean and dry microfiber towel.
3. Can be applied by hand or machine.
4. If desired, a second layer of Power Lock can be applied for even greater protection. Wait a minimum for three hours after the first application before adding second layer.