---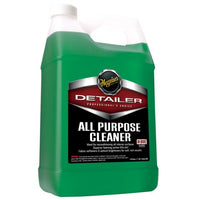 Meguiar's All Purpose Cleaner is a versatile cleaner for both exterior and interior surfaces. Its superior foaming action gently lifts the dirt away from carpet, upholstery, vinyl, and even leather. Ideal for most interior surfaces. This product is a highly concentrated formula perfect for commercial usage. Just mix it with water to the required strength, and you will have a customized cleaner for all your interior surfaces. 
DIRECTIONS: 
1. Test a small, inconspicuous area for colorfastness prior to use.
2. Apply properly diluted product to surface.
3. If necessary, agitate with a soft brush or clean terry cloth towel.
4. Using a fresh towel, absorb the excess product until surface is dry to the touch.
5. For continuous use, mix concentrate and water in a bucket.
6. Using a brush or towel, scoop out foam and clean desired area.

PROFESSIONAL TIPS: To quickly clean floor mats, spray properly diluted product over entire mat, agitate heavily soiled areas with a brush, rinse with high pressure stream of water, vacuum excess with a wet/dry vacuum and hang dry. Use a foaming sprayer tip and Meguiar's All Purpose Cleaner to clean hard to reach areas such as door jambs. Rinse thoroughly with water.