---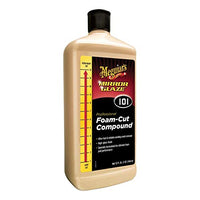 Meguiar's M10132 Foam Cut Compound is an ultra heavy cut compound that is designed to remove all types of paint defects including swirls, oxidation, sanding marks, scratches, and basically anything else that obstructs the appearance of your paint, producing a high gloss finish. Unlike traditional heavy cut compound, Meguiar's M10132 Foam-Cut Compound is designed to be used with a foam cutting pad. This makes Meguiar's M10132 Foam Cut Compound incredibly easy to use while providing a finish that is typically expected from a polish and not a compound. Body shop safe and is ideal for both the professional and the car enthusiast. These abrasives also provides a superior finish compared to traditional diminishing abrasives.

DIRECTIONS:
1. Shake Well.
2. For best results prime dry pad by directly applying Foam-Cut Compound to he pad face. 
3. Work Surface at approximately 900-1500 rpm. Using moderate downward pressure until sanding marks are removed.
4. Re-apply if necessary and clean pad frequently.
5. Wipe off final residue using Mequiar's Ultimate Wipe Detailing Cloth (M9910).
6. For maximum results, complete process using your favorite Mequiar's polish using a soft Buff Rotary Foam Cutting Pad (WRFF7).