---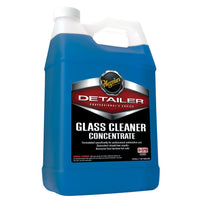 Meguiar's Glass Cleaner Concentrate easily and consistently removes tough vinyl fog, residue, road grime, smoker's film, and bug splatter producing crystal clear streak-free glass. It wipes them away revealing crystal clear, streak-free glass. Since it's formulated for professional use, the outcome really works.  Now you don't have to risk your visibility by using a streaky cleaner. This Glass Cleaner will give you a professional-quality results at an affordable price.
DIRECTIONS:
1. For best results surface should be cool to the touch, and applied out of direct sunlight.
2. Spray diluted product directly on surface to be cleaned.
3. Using a Meguiar's Ultimate Wipe (M9910) folded into quarters, wipe clean.
4. Turn towel frequently to ensure a clean side is being used.

PROFESSIONAL TIPS: When making your final wipe on the exterior glass, move the towel in a left to right motion; on the interior glass move the towel in a top to bottom motion. This will easily identify the side of the glass where any streaks may have occurred.