---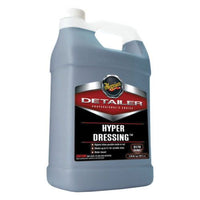 Currently Out of Stock. 
Meguiar's Hyper-Dressing dilutes up to four to one varying the gloss from high to satin. Safe and effective on non-painted plastic and rubber engine components, tires, wheel compartments, as well as interior and exterior trim. 
Safe water-based formula with a pleasant smell. This Product is Easy to use, spray on and wipe off excess.
DIRECTIONS: 
1. For best results, dilute to proper specifications.
2. Spray or wipe on surface.

NOTE: When applying to tires, wipe off excess (especially in grooved areas) to prevent spin-off, which may stain painted plastics. Do not use on tires or seats of motorcycles, bicycles or other two-wheeled vehicles or surfaces that should not become slippery.

PROFESSIONAL TIPS: To restore shine and luster to all engine components, clean engine compartment with Super Degreaser , blow excess water with compressed air and apply liberal amounts of diluted Hyper-Dressing and allow to dry.