---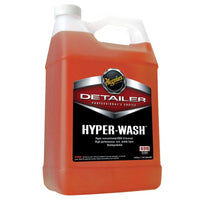 Typical dilution rates are obsolete when comparing them with Meguiar's Hyper-Wash. Using innovative techniques Meguiar's has created a product that produces rich, stable foam at an unbelievable dilution rate of 400:1, safely and effectively. This Product provides a deep gloss and rich shine that is biodegradable formula so no run-off and is body shop safe. 

DIRECTIONS: Mix 1 ounce (one pump) per five gallons of water. Wash vehicle. Rinse thoroughly.


Professional Tips: To prevent any accidental scratching of paint, use two wash mitts at all times; one for the upper portions of the paint and another for the dirtier, lower portions. This simple technique will ensure the dirtiest panels are cleaned separately, thus helping to prevent scratches.