---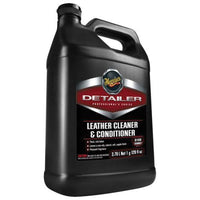 Meguiar's Leather Cleaner & Conditioner is expressly formulated to enhance the appearance of interior leather and vinyl surfaces. Its' thick, rich lotion leaves a non-oily residue and is designed to safely clean and restore leather's original look and suppleness. This product will also leave a nice finish that will leave a pleasant scent to all surfaces.
DIRECTIONS:
1. Use a clean microfiber applicator to wipe on a small amount.
2. Rub in well.
3. Let sit for a moment and then buff with a soft, clean microfiber towel.
4. Perform this step regularly to maintain healthy, soft leather.