---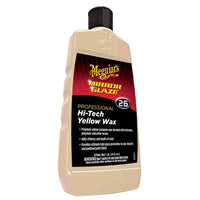 Provides ultimate high gloss protection, depth of color, and richness to any previously cleaned and polished paint finish. It contains high quality carnauba wax and is safe and effective on all glossy paint finishes. Safe and effective on all glossy paint finishes including clear coats, and is formulated for and by Hand and DA Polisher.
DIRECTIONS:
1. Shake well.
2. Apply in the Shade on a cool surface.
3. Apply to one section at a time.
4. Using light pressure, spread product evenly over surface.
5. Use overlapping strokes to ensure adequate coverage.
6. Allow product to dry to a haze.
7. Use a fresh terry cloth to wipe off residue and then turn over to clean portion of towel for final wipe.