---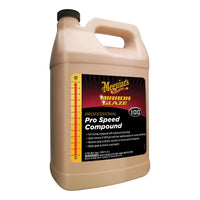 Meguiar's Mirror Glaze Pro Speed Compound is a fast cutting body shop safe compound with advanced technology designed for Professionals. Pro Speed Compound quickly removes 1200 grit and finer sanding marks and removes deep scratches, acid rain or severe swirl/holograms. It can be used on fresh & cured paints and is safe in a body shop environment. It is designed to be used with a wool pad on a high-speed rotary polisher to create a perfect finish that is sure to get the job done nice and easily. 
DIRECTIONS:
1. For best results, apply to a clean, cool properly cured paint surface.
2. Set rotary polisher to approximately 1200-1800 RPM's and work one section at a time.
3. Apply Pro Speed Compound (#100) directly to the paint surface and begin working in a 2' x 2' area with overlapping passes.
4. Buff area using light to medium pressure. Reduce pressure when compound begins to dry.
5. Continue working until defects or sanding marks are removed.
6. Wipe off remaining residue prior to polishing.