---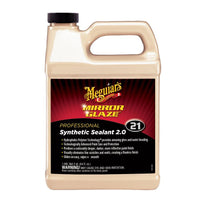 This professional grade sealant provides advanced paint care and protection, eliminating fine scratches and swirls and resulting in a deeper, darker, more reflective paint with a smooth finish. Hydrophobic polymer technology delivers extreme protection and water beading action. Formula is easy to apply with smooth glide-on and resistance-free wipe-off.
DIRECTIONS:
1. SHAKE WELL. For best results, apply to a clean, cool surface.
2. If finish is neglected, pre-clean with Meguiar's Detailing Clay (C2000) to ensure a smooth-as-glass finish.
3. Apply small amount of product onto applicator or foam buffing pad and spread a thin, even coat onto painted surfaces.
4. DO NOT APPLY TO VINYL, RUBBER OR CLOTH SURFACES.
5. Use overlapping strokes to ensure uniform coverage.
6. Allow product to dry thoroughly (approximately 10-15 minutes).
7. Remove using a clean Meguiar's wipe or towel (Ε101 or X2010EU).
8. Turn to a dry portion of towel for final wipe.
9. For best results, apply product using Meguiar's DA Polisher (MT310) and Soft Buff™ foam polishing (DFP5 or DFP6) or finishing pad (DFF5 or DFF6).
10. For optimum results when using a rotary buffer, use a speed setting of 1.000-1.400 rpm & light pressure.
11. To ensure product is ready for removal, quickly swipe finger across panel. If surface is clear and streak free, product is ready for removal.