---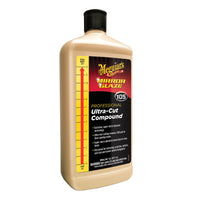 Meguiar's® Mirror Glaze® Ultra-Cut Compound is formulated with exclusive, super micro abrasive technology that features ultra-fast cutting ability to remove 1200 grit or finer sanding marks. Advanced super micro abrasives leave best in class finish. This professional grade formula is also great for removing scratches, defects, acid rain and severe swirls or holograms. Safe and effective on all glossy paint finishes including clear coats
 DIRECTIONS:
1. SHAKE WELL. Apply to clean, cool, properly cured paint surface. Work one section at a time.
2. Hand Application: Excellent for rubbing out door jambs and spot hand compounding.
3. Simply apply to a soft cloth (X2010EU) and rub desired area. Wipe residue with clean side of towel.
4. DA Polisher: Apply directly to foam cutting pad (DFC5). Set polisher to 4-5 (for MT310 set 4.800-5.800 opm's).Apply moderate pressure on initial 2-3 passes followed with light pressure for next 2 passes. Wipe off residue immediately after each panel.
5. Rotary Buffer: Set buffer to approximately 1500-2000 RPM's and use wool pad (WRWC8). To prime new or dry pads mist on with M34 Final Inspection. Apply the compound directly to the paint surface and work in an area 5x5cm with overlapping passes. Continue until defects or sanding marks are removed. Wipe off residues with Meguiar's microfiber wipe (X2010EU or E101), prior to polishing.