---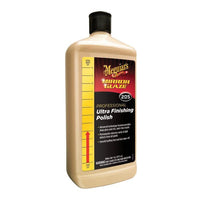 Advanced Technology formula produces a deep gloss and rich swirl-free results. Produces deep reflections and high gloss. Smooth buffing feel, easy wipe-off, and fast clean-up. This product will also help to remove light imperfections and refine your paint safely. Whether you only have light imperfections that need to be removed, or if you are following up a heavy correction step, you will need to reach for a light corrective polish.

DIRECTIONS:
1. Shake well and always work on a cool, properly cured paint surface.

Rotary application: Work one section at a time. Set rotary buffer to approximately 1000-1500 RPM's. Use with Meguiar's Soft Buff 2.0 Foam Pads. To prime new or dry pads, mist on M34 Final Inspection. Apply M205 Ultra Finishing Polish directly to the paint surface and begin working in a 2'x2' area with overlapping passes. Continue working until light film remains. Wipe remaining residue with a Meguiar's M9910 Ultimate Wipe Microfiber Cloth. For extreme gloss, apply with Meguiar's G110 Dual Action Polisher with a W9207 Soft Buff 2.0 Finishing Pad.


DA application: Apply directly to appropriate Soft Buff 2.0 Foam Pad. Set machine to 4-5. Apply moderate pressure on initial 2-3 passes followed with light pressure for following two passes. Wipe off residue immediately after each panel.