---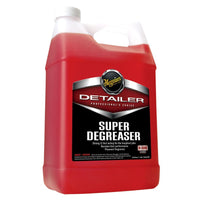 Meguiar's Super Degreaser exceeds expectations by quickly breaking down even the toughest grease. Its' fast acting free rinsing formula prevents unsightly white residue stains while its herbal fragrance creates a pleasant work environment.
The product is only for exterior use only that is easy to use, spray on and wipe off
.

DIRECTIONS:

1. Dilute to required specifications and apply to desired surface.
2. Let sit for 30-45 seconds and thoroughly rinse clean with water.
3. Do not let dry on surfaces.
4. TIRE CLEANING: Prior to use, ensure surfaces are cool to the touch by spraying with cold water.
5. For severe grease accumulations, agitate with brush.
6. To prevent any accidental staining from overspray when degreasing engines, wet adjacent panels with diluted Meguiar's® Hyper-Wash (D11001) or Shampoo Plus™ (D11101) prior to application.