---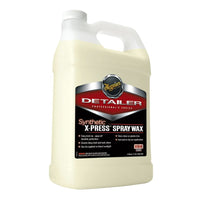 Meguiar's Synthetic X-Press Spray Wax is formulated utilizing a blend of Hydrophobic Polymer Technology to produce a deep, rich gloss while leaving behind protection quickly and easily making all surfaces remain nice a smooth to the touch.
The formula is easy to apply with instant wipe off, can be used on wet or dry surface, and applied in direct sunlight. This product will dry clear so it wont leave a white residue on plastic trim and rubber gaskets.
DIRECTIONS:
1. SHAKE WELL. For best results apply to a clean surface.
2. Mist product onto one section at a time.
3. Quickly spread product with a clean Meguiar's wipe (E101 or E100EU) and immediately wipe with a second dry wipe.
4. Do not allow product to dry on the surface.
5. Maybe applied to a wet vehicle after rinsing. Mist on wet car and proceed with drying towel (X2000EU) or chamois (Χ2100).
6. Apply to paint, glass and chrome for durable hydrophobic protection.
7. Use Meguiar's Microfibre Wash Mitt (X3002EU) for initial wipe-followed with final wipe with E101 or E100EU.