---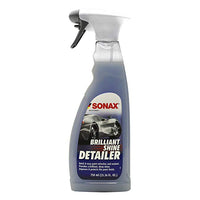 SONAX Brilliant Shine Detailer gently and efficiently cleans lightly soiled surfaces without scratching. it improves the paint finish and leaves the paint with a soft smooth surface and brilliant deep shine. Refreshes an existing wax job and provides a water repellant as well. Can be used as a waterless wash.

DIRECTIONS:
1) Wash vehicle in a car was or by hand, dry, and polish.
2) Shake bottle before use and turn the nozzle to open.
3) Spray a light coat of SONAX Brilliant Shine Detailer on the paint surface and immediately distribute it evenly with a microfiber towel and wipe the rest away.
4) Reapply if there are uneven color impressions.