---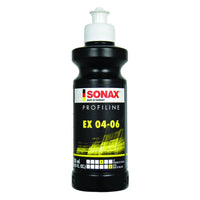 SONAX EX 04-06 is the latest formulation of medium cut, finishing polish for hologram-free results. Engineered specifically for use with dual-action or random orbital polishers, the abrasives break down very consistently to produce the highest depth of gloss. SONAX EX 04-06 is water-based and contains no solvents, silicone's or petroleum. No dust is produced during polishing which makes for easy clean up and prolongs the life of the polishing pads.
DIRECTIONS:
1. Shake Bottle before use.
2. Apply product to Polishing Sponge.
3. If necessary, wet sand flaws with abrasive paper P2000 or finer.
4.PLEASE NOTE: Do not use in direct sunlight or on warm surfaces.