---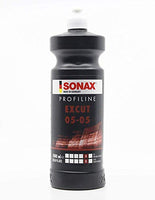 Coarse abrasive paste for orbital polishing machines, for sanding down scratched paintwork or locally sanded paint layers. High abrasion combined with high degree of gloss. 
Removes marks of up to grain size P1500. Removes deep scratches and corrosion due to bird droppings, insects, and tree sap. Silicone free & low dusting. 
Directions:
Shake bottle before use. Apply product onto a SONAX Cut Pad and polish for approx. 10 seconds at medium rotational speed. Slightly tilt machine, if necessary. Polish further afterwards at high rotational speed for approx. 20 seconds, exerting medium pressure. Remove residue with a SONAX Microfiber Cloth ultrafine.
PLEASE NOTE: Do not allow polishing area to overheat. Regularly clean polishing pads. Never use different polishes on one pad.