---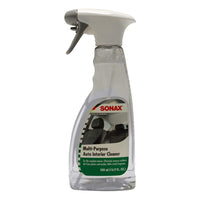 SONAX Multi-Purpose Interior Cleaner (formerly SONAX Upholstery & Carpet Cleaner) gently and thoroughly removes stubborn dirt and stains from fabrics, upholstery, door panels, carpets and ceilings. The foaming-action formula is rich in cleaning agents (surfactants) that bond to foreign contaminants deep within the fibers, neutralizing odors and leaving behind a clean, fresh scent.
DIRECTIONS:
1. Vacuum area first to remove dirt.
2. Spray Sonax Multi-Purpose Auto Interior Cleaner directly on stains or area to be treated.
3. Use damp sponge or cloth to gently agitate stubborn dirt.
4. Wipe off with moist, clean cloth and leave to dry.