---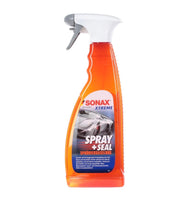 SONAX Spray & Seal Instant Shine Coating is a great compliment to any car enthusiasts' product arsenal. The easy-to-use formulation incorporates a unique Hybrid Polymer Technology that provides up to 3 months protection and generates excellent hydrophobic properties. After the car is washed and while it is still wet, simply spray entire car with the product and rinse. Completely dry all areas affected with a clean microfiber towel.
DIRECTIONS:
1. Wash vehicle and rinse thoroughly.
2. Shake bottle before use and turn the nozzle to open.
3. Evenly spray the sealant from a distance or approx. 15-20 inches on the wet vehicle (approx. 2-3 sprays per 4 ft section).
4. Rinse immediately with plenty of clean water and dry the vehicle.
5. Remove any leftover remnants with a microfiber towel.
6. PLEASE NOTE: Do not use on hot surfaces. Do not apply in direct sunlight. Do not allow to dry. Always give special attention to the seams of the vehicle while ringing product thoroughly. 
7. Protect against freezing and do not store above 100 F.