---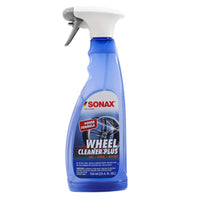 SONAX Wheel Cleaner Plus - New and Improved!  Now Available!
The wheel cleaner you've always loved just got bigger and better. New Sonax Wheel Cleaner Plus is 20% stronger than the previous formula for even faster and more effective removal of stubborn brake dust and road grime. 
Sonax Wheel Cleaner Plus sprays on clear and turns red almost instantly as it begins to work. Because it is acid-free, Sonax Wheel Cleaner Plus is safe for use on all wheel types and will not damage or corrode wheel bolts.
DIRECTIONS:
1. Shake well before.
2. Turn nozzle to the spray position.
3. Evenly spray the wheels from a short distance.
4. Allow the cleaner to work for 2-4 minutes.
5. On contact with the wheel, the product begins to change color to a deep red, revealing its full cleaning power.
6. To finish, rinse the wheel, tire & brake system thoroughly with a strong water jet or high pressure. 
PLEASE NOTE: Do NOT apply in direct sunlight or on hot wheels.