---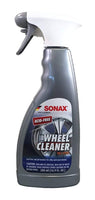 SONAX Wheel Cleaner full effect is a highly effective, acid-free and pH balanced rim and wheel cleaner that is safe for all wheels, including aluminum and alloys. This formulation is also effective and safe for use on painted wheels and will not deteriorate clear coats.\
DIRECTIONS:
1. From a short distance, apply evenly to a cool, dry wheel surface and let sit for 3-5 minutes.
2.The liquid changes its color to red as it reacts with the iron particles of the brake dust. In case of extremely stubborn soil, use a sponge or soft brush to gently agitate.
3.Finally, rinse thoroughly using a string water jet or high-pressure washer.
4. PLEASE NOTE: Protect against freezing. Do not apply in direct sunlight or too hot wheels. Do not allow to dry.