---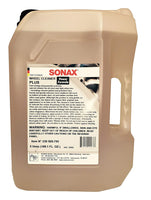 SONAX Wheel Cleaner Plus is the latest formulation for fast and effective removal of stubborn brake dust and road grime. The powerful wheel cleaner is 30% stronger and works much faster than SONAX Wheel Cleaner full effect. PLUS sprays on clear and turns red almost instantly as it begins to work. Because it is acid-free, Wheel Cleaner PLUS is safe for use on all wheel types and will not damage or corrode wheel bolts.
PLEASE NOTE: THIS PRODUCT IS AN OVERSIZE ITEM AND DOES NOT QUALIFY FOR FREE SHIPPING.
DIRECTIONS:
1. Shake before use.
2. Best when applied to COOL, DRY wheels.
3. Turn nozzle to the spray position.
4. Evenly spray the wheels from a short distance.
5. Allow the cleaner to work for 2-4 minutes.
6. On contract with the wheel, the product begins to change color to a deep red, revealing its full cleaning power.
7. If necessary, a soft brush or the SONAX Wheel Rim Brush can be used to manually aid with deep cleaning.
8. To finish, rinse the wheel, tire & brake system thoroughly with a strong water jet or high-pressure water. For best results apply SONAX Wheel Rim Shield afterwards.
9. PLEASE NOTE: Do not apply in direct sunlight or on hot wheels. Do not allow the product to dry on the wheels. Protect against freezing.